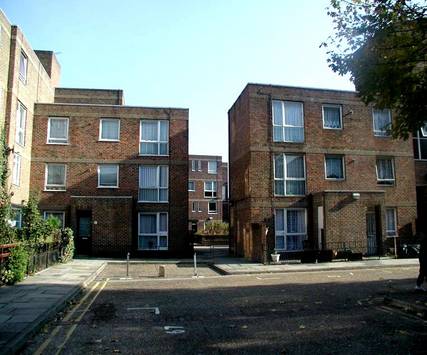 1-4, 5-12, 14-21 Zander Court
Should the walkways between the blocks be secured to create separate areas that can be secured by boundary fences and gates linked to a door entry system?
Does the block need new windows?
What is the condition of the roof? Does it need to be replaced by a pitched roof?
Does the block need cavity wall insulation?
How can the parking areas on the Estate be secured?
Property Tenanted/Leaseholder Breakdown
LBTH Estimate for Required Expenditure, 2001
| | | |
| --- | --- | --- |
| Category Description | Group Name | Total over 30 years |
| | | |
| Catch Up Repairs | Boundaries | 1,511 |
| Catch Up Repairs | Decorations | 3,445 |
| Catch Up Repairs | Electrics | 8,393 |
| Catch Up Repairs | External doors | 783 |
| Catch Up Repairs | Floor coverings | 531 |
| Catch Up Repairs | Floors | 228 |
| Catch Up Repairs | Heating/hw | 1,948 |
| Catch Up Repairs | Internal doors | 1,879 |
| Catch Up Repairs | Kitchens | 7,556 |
| Catch Up Repairs | Plasterwork | 372 |
| Catch Up Repairs | Rainwater goods | 4,580 |
| Catch Up Repairs | Sanitary ware | 5,725 |
| Catch Up Repairs | Structure | 126,678 |
| Catch Up Repairs | Walls | 6,870 |
| Future Major Repairs | Boundaries | 1,350 |
| Future Major Repairs | Decorations | 17,225 |
| Future Major Repairs | Electrics | 25,472 |
| Future Major Repairs | External doors | 4,916 |
| Future Major Repairs | Floor coverings | 2,693 |
| Future Major Repairs | Heating/hw | 19,063 |
| Future Major Repairs | Internal doors | 11,294 |
| Future Major Repairs | Kitchens | 45,338 |
| Future Major Repairs | Lighting | 5,438 |
| Future Major Repairs | Rainwater goods | 4,580 |
| Future Major Repairs | Roof | 33,708 |
| Future Major Repairs | Sanitary ware | 28,476 |
| Future Major Repairs | Structure | 21,929 |
| Future Major Repairs | Windows | 29,239 |
| Block Improvements | Stairs/Balconies/Security | 21,400 |
| Dwelling Improvements | Electrics | 1,233 |
| Dwelling Improvements | Kitchens | 1,832 |
| Dwelling Improvements | Walls | 6,869 |
| | TOTAL | 452,555 |