This square is not only the access point for several homes but serves as an important route for people crossing the estate. A steady stream of pedestrians makes their way through to Tescos or Hackney Road. However the existing space is dominated by a dull slab of grass with a low rail. And this discourages people from enjoying the space.
The pathways surround the grass area are narrow and therefore difficult to travel through.
As you can see from the sketch below, the recomposition of the square, including the removing of the grass oblong, would allow direct paths through the space making it easier to use and more attractive to look out on to. Different surface treatments and the planting of trees would create an environment which encourages the square to be used by residents. Staggered barriers would stop mopeds, and other motorized vehicles using the square.
Before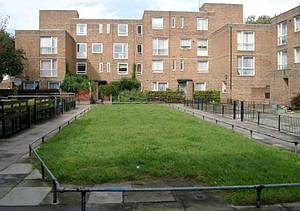 After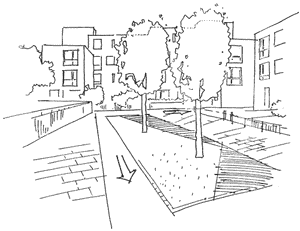 Note: Concept drawing only and therefore are subject to all relevant statutory approvals and regulations.

Stephen Davy Peter Smith Architects